There's a lullaby for suffering
And a paradox to blame
But it's written in the scriptures
And it's not some idle claim
Every month, every week, every day, someone is hell bent on asking, probing or claiming something to do with a payments play. I say "stop it." The answer is self evident. Like all good things its linked to patience and has less to do with payments and more to do with "Rails". Remember that word…
I have read with interest the claims of how Ant/Alipay will redefine the game, how Pakistani Banks need to be scared. Headline news 'chippy' is that, Ant also bought into a Bank. Albeit not a 100 lb industry gorilla but the multiples it paid totally make it feel like that.
Minus the inconsequential independent players, not for their lack of trying, product, or smarts, but lack of burn capital, my sense is, that before there is real traction they will be long gone.
We also have the self professed successful entrepreneurs /VC wanna bees also trying to lend their name to other people's dreams in hope of collecting when they build the user base, but at the moment all those efforts are really just that.  Efforts..
Fonepay 100k+ downloads, please shut off ad monetization, first make your app work. Keenu 50k+ Downloads, can't find any real places to use the app really. SimSim just wont work, wont link won't do much.100k+ downloads. Even if it's in the next band of downloads, and combined the three market entrants in the private space that have prob done the most market dev activities dont have more than 400k Downloads combined, then this really is a non starter as I saw some of the folks discounting products to acquire customers like crazy. It takes roughly 2-3$ to acquire customers online. So 400,000 X $3 =1.2M  so if the aggregate customer acquisition cost is higher than this for the three, the writing's on the wall already. Simply some one can build a better product and run ad-campaigns target people and in 5m$ if they have the tech they can acquire 1.6M customers give or take. One of the cheapest places in the world to drive online traffic atleast for now.
This is not a naming and shaming exercise but an exercise in introspection on the state of play. But not a single one of the wallets or payments app worked in the first go, some didn't get a confirmation code, some couldn't link to the bank account(if i cant add money i cant use it), others aren't accepted anywhere besides random places where I would have no need to go, let alone do a cashless transaction. It's just not fun the use case is there, but the traction is missing, because frankly with all the Wallets/Apps and products out there most are led/made/created/engineered by traditionalists(Bankers) in hipsters clothings Or guys who made stuff for the financial service sectors and decided to take a swing at this. We need a mindset shift of speak to the user as opposed to speaking at the user. Some of the CEO comments on FB have been short of respectful. Saying"your phone has an issue" etc etc. That wont win hearts and minds, the Play Store reviews tell the same story from a consumer perspective.
An other set of potential players are the old hard ware guys(Think Unisys, IBM, NCR etc) Some retired some not, they have the horsepower and the connections to the regulators and the old guard, they also have access to old money and access to the policy makers at large. Groups of these rat-packs are also surfacing up in conversations. They overlap in the "services to the banks" segment but they have grey matter and greenbacks. I just hope they speed up the game, some are as usual just busy at "Award Ceremonies/Local events" daily so its tough to tell how much of the real product work has been done.
What about our friendly neighborhood Banks you ask?  Here's the CliffNotes version of it all:
HBL: Probably best aligned, gets the big picture, has had past failed attempts to do payments and is the 100lb gorilla that will ultimately build a walled garden for all its talk about openness. Is working in stealth on a new play.
ABL: PayPak and back nothing much seems to be going on, at least there's no public narrative to a payments play
MCB: MCB MCB aye, they got an IPG going for them but besides that not much really happening, they seem to be happy to be a switch and to have a wallet app. 50k Downloads. Not impressive.
UBL: Omni was a confused product with no plans of growing up to be a payments services business. UBL digital is the new banking ++ app again with 100k+ downloads. They are busy building design centers with screens and areas to showcase UX/UI innovation. Too distracted by pretending to be something they are not, also fyi, by adding a picture of your new building to every piece of collateral you produce is just a tad much.
BAF: Monet, Monet,Monet, I guess they have run out of favours with their Sugar DUDS (Dadies under the Desert Sun). The Banks seemingly up for sale based on market "hawa" The MBILL app from days gone by 2014 has 500+Installs. I guess the Dhabi Group pulled the plug. Too focused on the fees driven models at large.
Faysal: Another contender looking for a suitor. Lost the cards lead, did not innovate to catapult in to mobile/payments space.  Wholesale management changes, seems like it had more marketers per capita than cards.
Meezan: Too much cash, no where to deploy, no focus on tech, also time for the foreign partners to exit. No one seems to be bullish on Pakistan long term from the GCC so thats 3 banks confirmed primed for a sale or partial offloading.
JS: Small scrappy, saying all the right big words, API storm up the ying yang, a lot of talk a lot of coordinated PR. Outcomes will determine the fate long term. How open will open be?
TMB: The luckiest F off them all bar some folks who got out too soon. Jury is out, Telenor is telenor its driven by ARPU , ANT could give a lesser F about ARPU. Short term lots of stuff to do to really build out the tech.
The common theme at most banks is a recipe. The recipe calls for one part ex-Telenor/Easypaisa resource + one part internal ADC + Ceo's New Vision = Digital Play. Whilst Telenor and Easypaisa have helped create the brand and create consumer value, its dis service is that everyone claims to have been the "key" person at Telenor as they fish out to other banks. That combined talent pool barring a few extra ordinary people 5th , 6th level down staffers with no idea of the big picture.
From the looks of it, there is no promising marriage of masters of big data and global finance happening any time soon in Pakistan. There are unions yes, but not marriages yet. That needs a lot of work. I bet you, Google is eyeing this , even if from the sidelines. There is too much FOMO at Google. They missed so many markets in so many verticals, but they got into India on time. Their wallet is "THE" Wallet. Tez.. They have crushed Paytm which is backed by Ant. So now you get who the enemies at the gate are?
Let me spell it out for you, Its Google and Ant. Tez had 7.5m Users in India right off the bat. But then something more interesting happened. While the growing user-base is a decent indicator of the app's early success, Google was even happier with the actual usage stats. At an event, Google's VP of Product Management for the Next Billion Users program, Caesar Sengupta, said that the app has now processed a whopping 140 million total transactions. Not only that but the average transaction today is now four times higher than during the app's launch period. In addition, National Payments Corporation of India (NPCI) data suggests that Tez accounted for 70% of all UPI transactions between October and November. Sengupta also proudly announced that there are now over 500,000 ("5.25 lack") merchants on Tez, with more and more small businesses making and receiving payments through the service every day. Scale much? Caesar tweeted this on march 1st "From 17.6M (Aug) to 171M trans (Feb). 10X in 6 months! Amazing growth in UPI. "
As I was updating the post to publish, this just happened. To give you an idea of what real scale means. Compare the above data to the tweet below:
@TezbyGoogle is now being actively used by >16M Indians who have already done >350M transactions in just over 6 months! Humbled by the love and adoption we have seen. But lots more to do and long road ahead.

— Caesar Sengupta (@caesars) April 20, 2018
Albeit its Google but this is how do shit right. Starts with the "rails". Google went in early and went in big, Not every thing worked but they had a plan.
So Ants rails are TMB, not any fancy tech, they have enough of their Alipay stuff hanging around to borrow a leaf, a page or a stack or say everything. TMB is the conduit to build AliPay Dreams on top. Ant got an operating license a local player, an astute management team and clearly Easypaisa the most formidable brand in the country powered by TMB. So can Easypaisa do 171m transactions today, probably not. Can Ant make it happen ? for sure it can. So Both Ant and Google have battled this out In India, Ant backed Paytm is doing 30% payments vs Googles doing almost 70%.
Build the rails everyone, so that the last mile delivery/delivery platforms/services/OTT/Biller aggregation/bill presentment/everything you want to be able to do is possible in an app or on a platform.  If some one can dream it they can connect to your rails.(API)
Gotta build the plumbing before you build a fancy house. If the plumbing is great everything flows through. Please dont ask when PayPals coming, it's almost irrelevant. We need the enemies we have at the gates to faceoff in person so that the real benefit comes to the market. Google has surprised me personally. From its experience in India this market is similar yet they're not even present on the ground in Pakistan. There is much talk but no action. Just market sensing using their stellar sales teams.
A multi 100bn$ companies only excuses is that they don't have the might, muscle, man power   to be incorporated in Pakistan given potential legal issues. For all the lip service about inclusion and other things. Ant jumped in, feet first. Ant didn't have legacy,  legal or taxation issues that Google has in relation to AD-Sales and dollars being exported out of the country(I've written about those challenges in the past extensively)
The Google GO-Jek style marriage is great for Pakistan. Google missed Grab but couldn't miss Go-jek, there's more to Go-Jek than ride hailing ….Its a Payments play and POS play and eventually rich data from malls, eateries, public domains, travel drop off points, offline to online attribution. If Google knows where you are going, what route you are taking, what transport type you are in, imagine the use case where in,  it predicts your fuel usage routes you to the nearest gas station, does deals with "energy suppliers", knows that you like to buy candies before you pick up kids on the weekend from practice, it sends you not just digital mail it will eventually re establish direct mail, coupons either offline/online or hybrid, so it control the entire experience and best of all a share of grocery basket by adding those points of data and putting a mental marker/aka pixel on you as a person and your habits and locally predict what comes next in your retail and personal experiences.  You cant accuse Google of not doing its HW. See what Go-Jek is doing: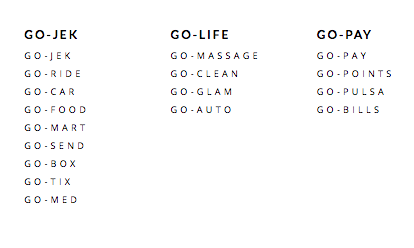 By going after it(Go-Jek) Google personified hyper local at its best, It had the maps and the online piece it now needs the hyper local pieces to weave the next generation narrative for the next billion users. Google recently got street level addressing in Pakistan also. Just fyi, its location services will allow it better economies of scale now compared to any other map provider.
Now we come to Ant, they have the other end of the spectrum figured out, they have payments and credit scores and lending, 95+Bn$ worth of it. They did what banks couldn't do in 50 years. Case in Point below. Payments, Wealth Management, Credit & VirtualBank all rolled into one.

So their 150bn$ rock star Unicorn status is well deserved. They are the other party at the Gate. Neither Google nor Ant are our enemies, they are each others arch rivals. For us they are frenemies at worse, and economic agents of change at best. But our governments have been unable embrace or invite either. Ant came based on a strategic need to find consumers for products and expand to support OBOR. They could care less about issues related to opening offices, like Google and FB(I forgot, FB is also the Frenemy here) and their overly protective hovering helicopter parents in (Policy) . Ant has Alibaba going for it and with it, complete and unconditional access to China, its exports and goods and services, there is some talk about to setup a TaoBao style model with the potential acquisition of one of the local players just for ease of brand and export PK made goods overseas. Remains to be seen.
The Chinese came here of their volition they didn't need to be cajoled and courted, they are entering emerging markets and need new users for their good services, technologies and beta testing. The Americans need to be invited, no one in Govt has gone to the likes of FB or Google and said, we welcome you, but I suspect that's the expectation, if India is any cue, where in the Google Vps continually thank the Govt as its anchor partner and vice versa. There's a lot of song and dance. Google employees 5k+ ppl in India. The whole NBU(next billion users) focus is in India. Even though Google won't publicly admit but as can be seen by data that its Railway based Internet Tie up didn't really work out as expected no less its space saver app and Tez are doing gang busters. So maybe there is hope for them coming to Pakistan and changing up the mix some what. But you have to come here to play you cant just use Android devices to collect Maps data etc and build services:)
FB is doing Whatsapp payments in India, it came late to the party too, but its a great use case for PK where in every one with a smart phone seemingly is on Whatsapp, no additional app needed for payments and you can get all the hyper local stuff you can with Tez  or AliPay for example. Google had to add messaging to Tez in India from what I can tell in a retaliatory market move with Whatsapp's payments coming to town.
As of February 2018,  WhatsApp had 200 million Monthly Active Users (MAUs) from India that apparently make up a size-able chunk of its 1.5 billion global MAUs. Because of the numbers and its popularity in the region, India is the perfect location to test a potential moneymaker like the WhatsApp Payments feature.
But with every new modification and addition to the product, WhatsApp Payments is certainly nearing a global rollout.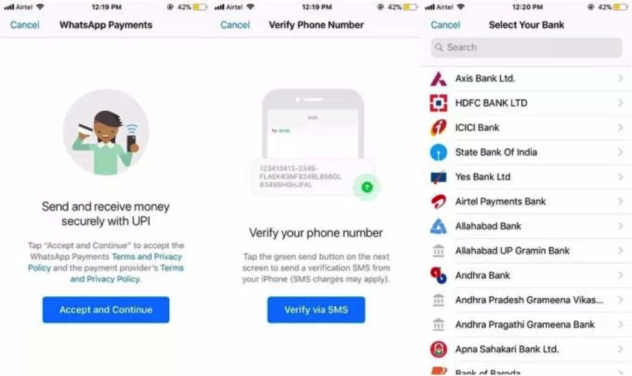 So as these enemies eye the prized Pakistani consumer, its anyone's guess what happens next. If PayPal was really smart, they'd beat these 3 to the prize and get started. Just the brand equity would drive it to universal adoption. But that's just my thinking could be a completely different scenario in reality. The first one to tie up Remittances and ACH+BCH will win hard and fast. The use case to be solved is: an App where a user, say in the the US, adds their credit card or their local bank account and selects a biller in Pakistan(say their parents electric bill) and pays it real time. That will be the game changer, not alliances with the payment transfer companies to do cash-outs, gotta remove as many middle men as possible and in the process build apps that can do real scoring models and get in to the micro lending model, if you can get Islamic finance built in to it, that will be the big differentiator that will make banks and cards completely irrelevant in Pakistan.
Most of all if the regulator was smart they would do away with this PSO/PSP stuff and figure out a quick model to initiate the global/local players.
If the domestic/international investors were smart they would consolidate their assets and see the news happening around them in the hyper local space. I.e Insurance companies making a play for the likes of Go-Jek with follow on investment after Googles. Smart money says, its time to bet now, and bet high.