I don't really know what happened to Benlays Doodh Patti. I do remember that for a brief period, all the ex-pat Pakistanis I knew could not live without it. It was some thing so simple yet so profound. DoodhPatti is to Pakistan what Coffee is to Americans. People were willing to pay 14/$ for a 24 pack thats a $1.7 a serving or PKR 272 in todays effective rate. (Imagine the FX impact)
The box even says trade mark protected. Lo and behold it is.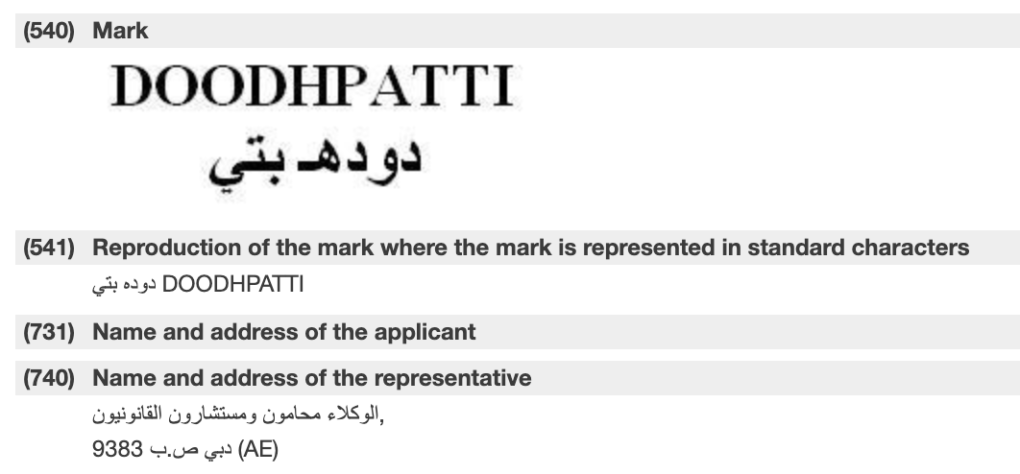 It is registered via a law firm in UAE, which was easy to locate given that PoBoxes seldom change any how will skip that.
Whilst I dont know the history of who Benlays was and what they did, their address for SITE and phone numbers turn up Ahmad Manufacturing Company. https://goo.gl/maps/onB8jELzrhue15Dh8 . Same address same every thing. Suspect some textile group had in the past tried to diversify and realised it either didn't work or the margins weren't the same as textiles. What ever the case may be it no longer exists.
So what is the point of this history lesson and going down this rabbit hole? It's fairly simple, that successful outcomes for products and product driven businesses are exponentially low in Pakistan. Have you ever wondered watching shark tank how one good idea, productised, commercialised and launched in retail or franchised results in millions of dollars of wealth creation? Our problem is both of innovation and lack of commercialisation. Lack of commercialisation because we have little to no co-packers, we don't have the home-to-commerical transition infrastructure, where it does exist it is next to impossible to find. Our existing brands are limited and some are dying too(See thread below). Yet we all know some one who makes an incredible sauce, chutney, mix, rub or some one who has other ideas/gadgets or totkas that can be commercialised. But we rarely ever see any one breaking out and commercialising products.
Now more so than ever both for local consumption and for export we need people to rise to the occasion and start with producing shelf stable products as a start. We need both import substitution which people like Dipit are doing, seemingly a Shan Foods venture.
Speaking of Shan they are available on Amazon.in so clearly they have found their way across the pond. Yet from smuggled Goodrej, Dabur and Amul and himalaya all the stuff is available in Pakistan. Why cant we get our iconic brands any where? Besides Shan that is. So coming back to the idea, that one idea can change your life, how does that item continue to work in the US and not here? Why can people be a one hit wonder, take the example of Scrub Daddy not in the food category though or Bantam bagels going from Shark tank to Starbucks. Not like we don't have a consumption hungry population from CPG to FMCG demand being super high. Yet we do not have domestic FMCG or CPG brands being developed or growing. We have the same players who continue to grow.
Our problem is many fold, from lack of product development expertise, to developing packaging to material sourcing, product testing, sampling, distribution, supply chains. None of these are easily available to most people. If you had the next killer Achaar, how would you go about even bringing it to market so it doesn't look like it fell off the back of a truck? From perfecting the recipe to labelling to nutrition guidelines to shelf stable testing to getting quality accreditation and sourcing and production. Some thing to think about, is to maybe build the infrastructure to allow fo this to happen. Build perhaps a co-packer? So think Cloud-Kitchen but industrial scale. Having a common core infrastructure so that you get economies of scale. Not just for food services even though the bulk of my examples are in that space. At large we need an enabling environment for people to take an idea/product and be able to commercialise it.
Before we start trying to develop Kombucha , Keifer Grains & Greek Yogurt we must learn to be able to produce Lassan Adrak Paste and or Canned tomatoes ala Italian ones which we pay 170 PKR for, we need a whole sale commercialisation revolution and folks who can help with GTM Strategy for these areas. We have an acute shortage of food services experts. We have no locally branded products that at-least I can name in each of these categories that comes to mind instantly
Locally produced Sponges
Locally produced Tooth Picks
Locally produced Ear Buds
Locally produced Phool Jharu
Locally produced Poncha/Mop Brand
Locally produced Buns besides ( Dawn/Bakeparlor)
Locally produced Masalas (Laal Mirch, Kali Mirch , Dhaniya – Besides Shan/National)
Locally produced Hair Oil
Locally produced Packaged Beef Products
Locally produced Cream cheese
Locally produced Canned Tomatoes / Canned Fruit/ Canned Mushrooms/Peas
Locally produced Cosmetics Brands
We need to give people hope that if they try hard enough and if they have a great product that some day (soon) we will have the infrastructure(process/technology/financing) to allow for them to break out of their social and economic predisposition. It seems like, unless you come from money you really cant or shouldn't be in the products business/manufacturing etc.
For a nation obsessed with food, recipes and then some why aren't we encouraging an entire generation of kids obsessed with building unicorns to moving to building recipe mixes or food products at scale. Halaal BBQ add-ins for example. We haven't gotten past juices that too aren't 100% indigenous and we continue to not evolve or innovate. So what does it take for us to leap frog so that our ideas can change lives? That for once things start to work for us too. We are caught up in such systemic disadvantages that to break the mould we need whole sale changes in no small part from education to government to the boys in brown and no I dont mean UPS.