You read that right, but what you missed was that they are barely mobile and or digital to really fear the paradigm shift that is essentially Fintech.  Fintech wont take down Pakistani banks, they will try to totally blame that(in time), but what will take these banks down are the 50-60 Yr old CEOs lack of understanding around what digital is or means and the industry hero worship around "aray falanay sahab to baray puranay IT kay admi hain" 🙂 .
Exactly my point, you cant teach a "Purana admi" new tricks.
This lack of understanding also extends to the board members of these banks too. You ask why? because these guy do not use their own services digitally(ever), they are not the net new consumer so they can never understand why it sucks so bad. They call their admin, who calls the bank manager…you get the picture.
The first step to solving any major problem is the recognition that a problem exists. In the case of these mis guided banks and many other tech centric businesses in Pakistan is that they compete with each other and do not get out of their own comfort zone. Or they buy technology from global vendors without knowing what it is, because every one of their peers are doing the same.
When you compete with at the bottom rung of the ladder in terms of innovation and technical innovation all you end up with is a site/app/system whose success is measured by how many times your CEO sees the AD on TV about his/her product. Mis guided benchmarks about mis guided items demonstrated by more misguided people.
The best story I ever heard as to why the chief digital officer of a bank refused to buy online ads was as follows. He told me, that they wanted to go and acquire female customers between the age of 25-45 and ran an online adwords and fb campaign across the networks in Pakistan. Their CEO called and said you have spent 50k USD on this, I have browsed every major site in the country all week yet to see a single ad online but I see ads for "unani nuskhas" all over the internet, any site that I go to. The irony of targeted marketing was lost on the CEO. Where in both Google and FB delivered on those campaigns the CEO didn't understand why he didn't see the AD because he always saw it when he spent 50k USD on TV. Has any one ever measured how many millions of customers have banks signed up after every major TVC?
I will stay away from acceptable service levels of the technical initiatives of the banks but what I will talk about is the thinking behind digital and what is an acceptable baseline  by way of mobile banking in the year 2017. I will further not go down the security exposures rabbit hole,  because that doesn't warrant a public disclosure of the weakness of the systems in place (of which there are a few dozen examples if not more). We will focus on the basic nuts and bolts of their front end customer sites/ digital customer engagement and the evolution of mobile banking or the lack their off.
I am selecting these banks in no particular order. Lets start with the mind set of digital and servicing banking customers in the age of technology.
Let me demonstrate how UBL is handling customer engagement on the Google Play Store.
This has to be a world first, an Eid Mubarak message within play store comments responses. Before the trolls start about oh we should be proud of Eid and whats wrong with wishing people on Eid, absolutely nothing. This just demonstrates the mindset of the person replying to these messages and the mind set of the folks who run or comprise  the digital function at UBL. Perhaps its not their fault either as the strategy arms of these banks are forcing down digital as a department vs trying to instill digital across the enterprise as an activity of transformation.  The image that comes to my mind is that of a an uber sweet 50+ uncle at UBL who has been assigned the task of responding to these messages after 30 years at the bank(BCCI Era) and with a view to give him his final pre retirement role. You dont believe me? See the an other example below.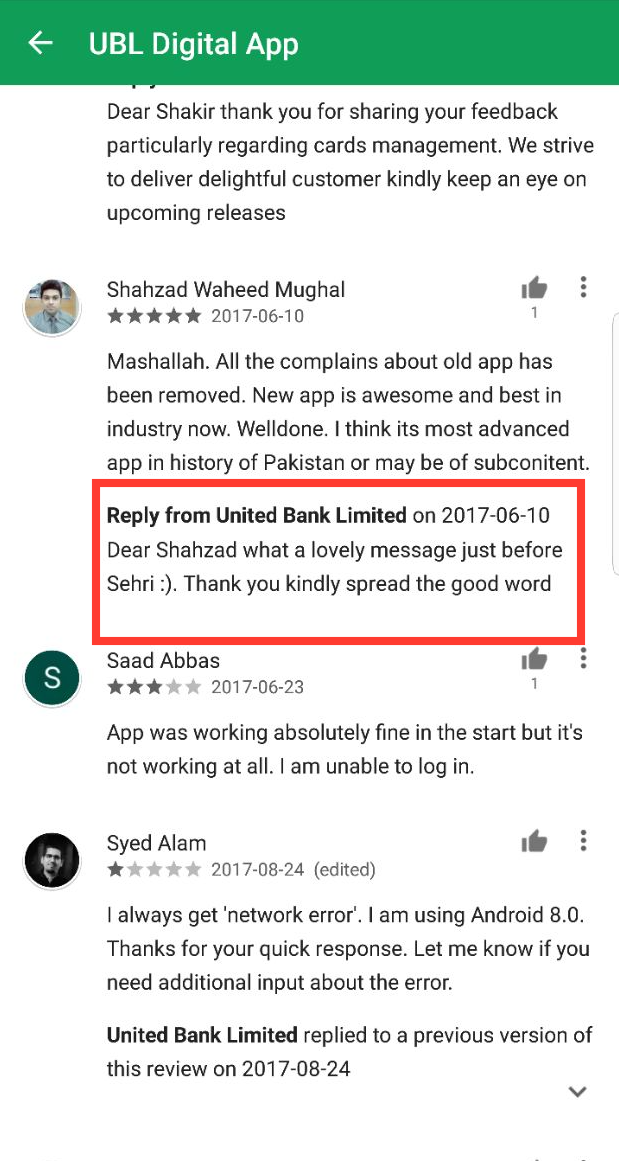 A lovely message before Sehri. I mean talk about keeping it professional. What I am trying to get at is the fact that before Fintech destroys traditional banking in Pakistan, the traditional banking IT/Digital/Strategy guys would have already helped the cause fueled by their respective CEOs desire to "be digital" without knowing what the hell it means.
In the year 2017, the least I'd like to see is a functional mobile site. Lets see Bank Al Falah's latest and great foray into this space. First of all half the text on the site is not legible due to bad font selection and sizing. Secondly the site barely cuts as a responsive site. Let us not even get started on thematic and lay out mistakes and the color red.
Trust me there is no way you can read the font the arrows are pointing towards. In this day and age of responsive, this design in it self is circa 1998 at best. Who makes sites like these? let alone banking site, where consumer education is key and information clarity is the difference between engagement only and engagement + conversion. This truly sucks.
One could over look a few UI/UX items but this site is riddled with them. No call to action any where, when a consumer comes to the site they come online to BANK or to Interact with the services. The drones who are building these sites are using them as a corporate/marketing site. There in is the issue, these rock stars of digital have not figured out the difference between a corp site and a consumer site.
I think a basic pre-requisite should be spell check.
But I digress. See this:)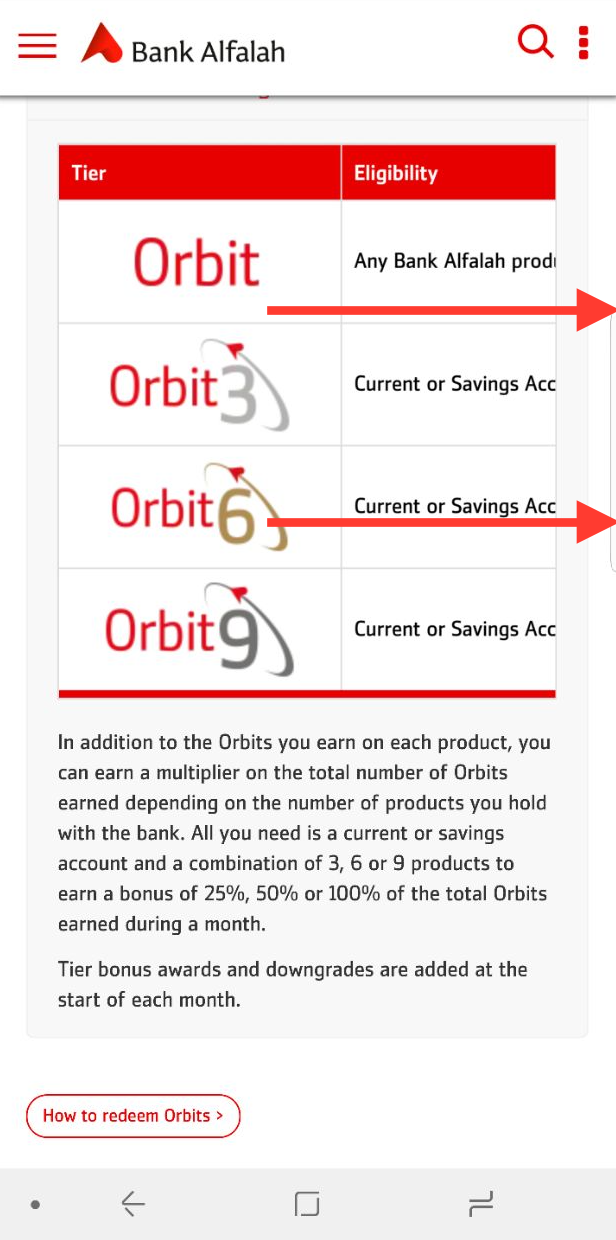 In the year 2017 it should be a crime to have an info scroll menu being cut off (see the arrows).The slider box contents have to slide right to be displayed on mobile. I rest my case, if you cant pass on your information on a mobile platform let alone in a single interaction, why are you even in business? Is no one asking what the cost of rolling out these sites + the cost of the digital departments is, in relation to the online conversion and reduction to 1st level call center support. They should be directly proportional, first call resolution services should see a decline of 20% if an online site is capable of doing that for consumers.
But the best is yet to come.
The award for sloppiness, and lack of imagination goes to this main page, which has not one 1 menu, but see the arrows, 2 menus. Had the bank like a billion new exciting digital features that they wanted people to discover I'd get excited about this cardinal design sign. But it even the content is the same/similar in both menus.
Head of digital much? This is a question for basic common sense.
This stuff didn't happen over night, nor can it be fixed over night. Banks give rise to  the most un imaginative breed in this country. To look at mobile evolution, you have to look at web evolution. I couldn't resist going back to way back machine and look at HBL. I will let you decide, how far they have come in their evolutionary journey.
From 2008-2013 literally nothing changed online for HBL.
Lets look at 2017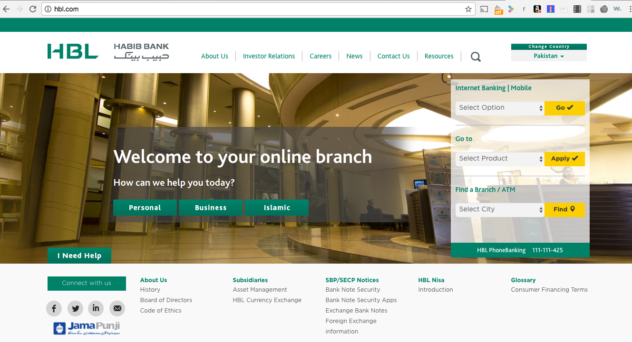 Not much has changed either visually or operationally, same center image construct, with a menu on the right/in this case its kept with technical advancements:), same/similar top menu. So since 2013 what is the innovation that happened here? How can the largest bank in Pakistan innovate if the custodians of digital cant even get the basics right.
They arent doing any better on the Mobile banking side either.
As a consumer, when I come online to the Banks site the first thing I should be able to do is login to my account. Every single one of these so called digitally innovative or leading edge banks have failed at the first call to action(Login). I wonder how their CEOs judge the KPIs of their digital folks. How can you in this day an age build a banking website that doesn't have a logon item front and center.
Interestingly as I browsed through various banking sites in my effort to find one decent example, I wasnt let down. Perhaps there are many others, but in terms of size scale and resources Summit bank actually had a call to action/LOGIN and an URDU button visible on mobile + their UAN and email address.
Alfalah and HBL both had it post one click meaning within an other menu. Summit also had the 2 menu problem(see next to the Urdu icon) but luckily one menu is just a CSS mistake and doesn't do much on responsive:) But clearly there is no QA any where.
Coming back to UBL. They seem confused, their site opens up with a site selector on mobile to select region. It clearly doesn't look responsive, it looks like a mobile ready site no less:) from 2001.
It should pick up your ip and take you to where you need to go, that stuff is free to implement and reduces one click.
When you do get to your so called mobile site, the following disappointment awaits you.

I mean look at the dead space. This has to be criminal in this day and age to have a mobile site that looks/works like this.
This stuff is followed up by the following stunts and I quote from the Banks own PR. http://bit.ly/2y0YIKt
KARACHI, PAKISTAN – 21 August 2017: IBM (NYSE: IBM) today announced that United Bank Limited (UBL) has selected IBM to support its digital transformation journey by establishing a Digital Design Lab, the first of its kind in Pakistan, to weave a seamless digital banking experience into customers' daily lives. The lab will provide an environment for UBL's interdisciplinary teams as well as its network of start-ups, fintechs, ecosystem partners, and academia to develop personalized and engaging digital customer experiences.
I dont know who should be more ashamed, the Banks CEO, IBM(for being an opportunist) or the banks Head of Digital, if they have one. For a bank that cant make decent responsive website the above sounds like hot air at the least and misguided adventure at best.
I hope the bank sees the irony in the disconnect. IBM Pakistan must be lauded for their foresight to make some money off folks who are clueless about what the digital journey means. This market and these banks are ripe for the taking.
In the same spirit. Lets talk about speed and some basic form of technical serviceability bench marks. In the mobile space to leapfrog from mobile to fintech to consumer fintech the one thing every one must get right to get the unbanked on to your platforms and services is speed and delivery of your technical site(payload)/service in the least amount of data streams as the consumer is conscious of their data spend. Lets look at how most of the banks in the country perform on the speed to performance co efficient. In no particular order.
Lets not go too far to compare. The first bank that came to my mind in India ICIC bank. I ran the same test on.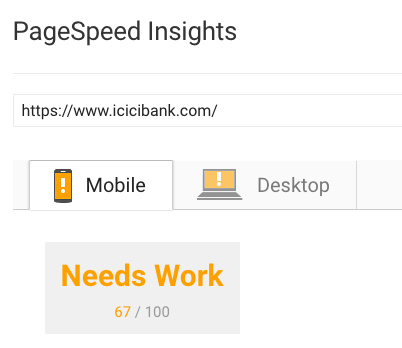 It has a 30 + point lead as compared to our banks on average. Its a mind set thing, you don't have to be 100 on the scale to be great. You just have to work towards improving. What I have seen so far is a lot of mis guided non sense labelled as digital strategy.
I dont claim to know every thing, heck the intent of this blog post is from the point of a consumer who wishes to use mobile banking, I am happy to sit down with any one who has the wherewithal to recognize that a problem exists and then work on trying to find a solution so that this eco system of Fintech's can actually benefit from the banking players(due to regulatory hurdles), who at this stage first need to get their own house in order to even remotely be competitive as banks let alone against Fintech companies.
Its a matter of time only, as the regulations ease out, the Fintech's wont need the banks, the banks will be a dying breed looking to partner with Fintech's to stay alive. Right now the banks have an unfair advantage viz a vi regulation, it is their hour to exploit it to their benefit. Sooner rather than later all this Digital strategy stuff will go down the drain and shareholders of these banks will be left without knowing what hit them.
If you are the head of digital at a bank, hopefully the CEO of your bank doesn't read blogs and you can dismiss this as what ever you want to dismiss it as, if you are the CEO of any of the banks I mentioned, you need to sit down with your chieftains and figure this basic stuff out, before you are mis led in to believing numbers and indexes and kpi's that were invented to make these digital types look good, you have a real issue on your hands. If you dont innovate fast enough its over.