There is no simple plan or check list, if I had one, I'd be using it my self. Clearly one doesn't exist, in its entirety, yet . If you read either or both of my last posts you know that these guys generally don't need to be on the ground to launch a viable product or service.
But to make money consistently and at scale where it matters, sooner rather than later they will need to be on the ground. That or they  will need access to some one who is. Park the advertising side for a moment, there is more to all these corps besides ads/ad content either as spenders or consumers or both.
If you have any thing going for you or your company at the moment, I hope it's large scale of localized data or the aspiration to get copious amounts of data based on the products and services you are building or deploying; be it in any industry or vertical so long as the only way to obtain is to be on the ground and that some one had to be locally collecting or building that data. It could be
1) Points of interest data (mosques, cinemas, schools , salons, grocers, butchers, tuition centers, thanas)
2) Housing Data (address data)
3) Shortest urban routes data
4) Time of day temperature data
5) Contextual data about road accidents
6) Delivery data on urban food deliveries
7) Consumer data on a multitude of CPI basket goods
8) CPG-FMCG Spend data
9) Product distribution data
10) Map or GIS data
11) Localized data on  atms, hours of service of shops, contact info (at scale)
12) Reviews data(product & services both)
13) Shopping comparison data (Physical and Virtual Goods and services)
14) Service Industry data
15) Power outage data
16) Voice overlay data
17) ID Card verification data(probably a government domain)
18) Financial services data
19) Goods and Services data
20) Human interaction data
This is not a comprehensive list but a starting point, the race to the top is about data, the race to the bottom is about still building apps. App strategies are good if they get you to the end goal of data. But if you are still building an app in 2017 to book movie tickets or to get discount coupons, just do your self a favor and don't do it. You need to be working on Machine learning, AI, Health Care some thing meaningful at this stage. Lets pause this thought till we deal with the next one.
In short, a few groundbreaking changes will happen whilst these companies are still not here or fully committed to being on the ground. All of a sudden the balance of power will change in the mobile hardware space when the Chinese variant phones in Pakistan who are not Google/Android compliant in terms of not having the play store installed (as a benchmark). When, not if Google decides to force (it's a growing trend in China, soon to come every where else) these companies to complying seemingly over night it could brick all those devices running side loaded play store or Google Play Services or stop select apps from working. Whilst it could be a potential dooms day scenario for the mobile guys operating locally it allows others, if played out, smartly; to get a huge competitive edge. It could give rise to an alternate android play store market "made for Pakistan" provided the phones not bricked entirely.
This doesn't just apply to Mobile phones, it applies to all the so called smart Tvs and after market car head units and TV boxes or even IoT devices and gadgets running android. Not that any one expects Google to be in the enforcement business over night, its not good for business but this whole device strategy/licensing will either hurt you as startup if you rely on cheap unlicensed hardware or make you super competitive if you have a play for when there are millions of bricked devices in the country or partially working devices that you can build services for or using.
So now look at what it does to the ecosystem. Think about the mobile carriers and their data plans and voice minutes if supposedly millions of devices get bricked or aps rendered useless or un-installable. What about all the after market Chinese Navigation systems and other head units used all over. What if your smart TVs are no longer smart? Or for that matter phone or any other device running android. Time to pause, re think and calibrate. Perhaps if the devices aren't bricked then a manufacturer specific store? Some thing to think about, all it does is isolate us in the grand scheme of things and limit the ecosystem.
Now we revisit our friends fondly viewed as the opposite of the Do No Evil guys of MTV, our friends in Menlo Park aka, Facebook. Its very difficult to judge Facebook but at the same time its very easy to judge what they are up to.
You take 2 leading carriers, you bundle free data(Zero Rated + free basics) , you give free WhatsApp + FB + you potentially have access to location data via your app, you have all the phone numbers and voila you have a living breathing data set. Here are some of the things that could be interesting when you have that information.
You come home, FB most likely knows, home, work , other places of interest, based on app location settings or phone GPS or carrier data. How and why is this scary from a privacy stand point? Google also supposedly has this info, not really. What they don't have is your contact book/relationships ala WhatsApp and further segmentation data based on groups its Members their FB profiles and their demographic data etc. Even though for the record FB says it doesn't do any of this stuff.
So if 5 friends go to lunch, all have WhatsApp, all have FB, all are at the same location at the same time. FB has that point of interest, info on those 5 people. FB now also knows the demographic info on the people, it also knows hypothetically all the others that frequent that restaurant. It also knows times of day pictures are uploaded. If you are a cheapskate and using the restaurant WiFi, it also knows start and end time of your session to let them estimate how much time you and others spent data that you consumed, activities that you did, status updates or pictures or both, did you tag people? it is building up FBs reference library on you and your ecosystem of relationships. You just handed over your personal data, by just hanging out with friends and now every one in your circle of relevance is exposed to this potential data harvest.
It can build dense relationship and thus decision trees (for later marketing/re marketing to you) of people place, interactions, usage, connections and pretty much every thing else you can choose to mathematically co relate. (Hypothetically speaking). Speaking of co relation take a look at this and be inspired to do some thing interesting with it
What its missing is an equally deeper level of localized data. Not to encourage some one from building a data layer that helps FB or any one else violate privacy, but if there was a Shopify style local plugin of all restaurant menus, and online orders and payment info, that added to the stream of FB info would drive a large scale suggestions business model for FB then perhaps ordering, delivering, via partners of course, or resell that info.
With payments being launched inside of WhatsApp in India already, what if FB/WhatsApp already knew, or was location aware and offered you deals and discounts and in-platform shopping? There go all the coupon, discounting folks, along with bank cards and their offers.
It already knows who your friends are, who you spend time with where you eat together, so with 10 phones present in a room with WhatsApp or FB on them , how difficult is it for FB to figure out; frequency of connections and time spent + activities and locations where people meet and were together. Plus the gold standard of every interaction, "repeat behavior". If any one can mine that, they are sitting on gold.
Imagine the privacy implications of snooping or knowing where you were, who you were with and how frequently and at what intervals ☺
You have 2 choices as developers & as companies, get in the data game, every ones looking for locally relevant data, if you can find, organize, structure and setup data, these companies will come and buy you or you data or license it, it's a cheaper option for them. Again not saying you should help build anti privacy companies, but you get the idea of the possibilities data has in both realms. You have the tool and the means to deploy them. You have a loaded gun so to say, know how to nurture it, till the day you need to use it. Unlike what I saw this morning on my drive to work.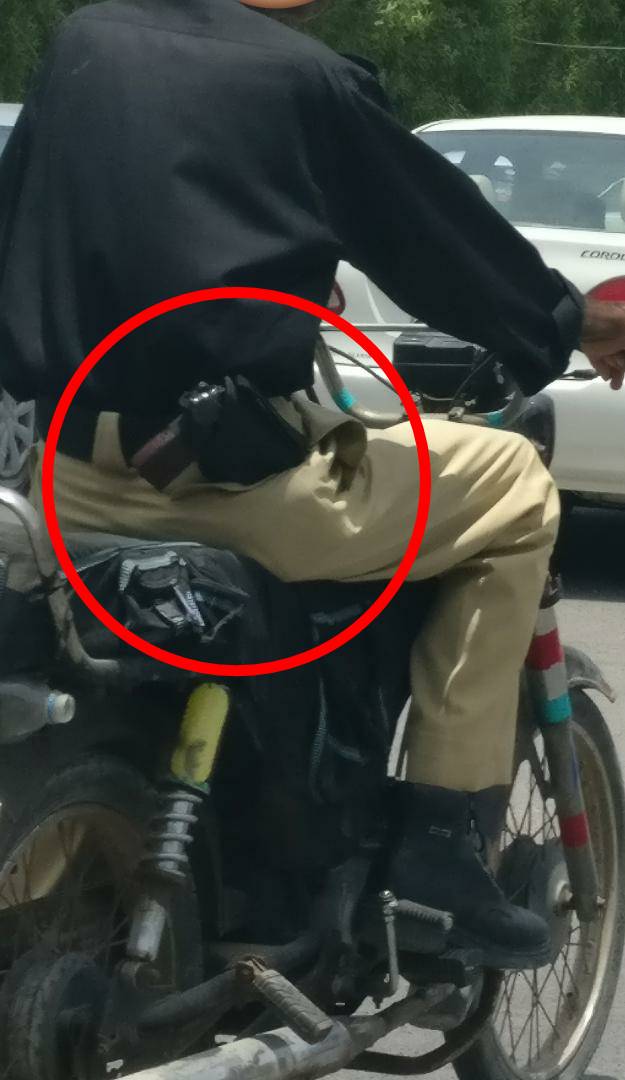 Imagine the impact of in(platform) FB-WhatsApp payments and shopping, if you could or you already have the biggest mobile financial wallet, wouldn't it be easier to just piggy back off you. If Google's Lense project is any indication of what is to come in AI, soon I wouldn't need to know the name of any thing I wanted info on or shop. But what about local items, their local availability? I couldn't just point towards a Peshawri Chappal or a Qorma plate and expect Google to spit out relevant info.
It will spit out some info, but you need to be in the business of making that info relevant so when they come and open the flood gates in our market for shopping, retail, e commerce, it is your data that powers their stack. If not you have wasted your biggest competitive advantage, i.e being local yet doing nothing with it.
Uber is here, arguably Ali Baba and all are coming too, but where is the urban addressing data and orders delivered data for Uber eats to launch for instance. Are you working on it?
Not like the Uber launch has been any thing but a series of mis-steps from the launch press conference to how they are setup in this country, but their loss is your gain.
Ali Baba is supposedly in state level negotiations, instead of waiting and hoping Ali Express products come to you cheaply flip the coin and see what information resources they will need when they come to play here, look at and investigate what their history has been.
If you paid attention to Jack Mas Davos interview, he said that the Ali pay financial services card or a persons credit standing on Ali Baba is sort of a secondary financial services system in the absence of a credit score, and in rural and urban settings where families don't know each other they use the score to determine suitability for marriage based on credit worthiness and character. Can you think of sub applications of data in this context? What that means is, if Ali Baba wanted they could launch the largest digital marriage service or credit check service. If they wanted that is. They already have the data.
I started with a list because I want you to go and reflect on what you could be doing vs what you are doing and what the big boys are doing. Now think of Google Assistant and Google Home, Also think of FB & Chat Bots and Augmented Reality and think of what you could be doing in the realm of AI, NLO, Communication and Data to help make profound difference in the cities, communities and areas you live in – at a national and regional level and ultimately globally.
That should be your starting point. Look around you, see what the global guys are doing, if they aren't doing any thing, then again, you are the product because you haven't figured it out yet. A lot of wholesale changes are going to come to the ecosystem. Be ready, be agile and make some money at it. But first please be self aware, no one is going to buy an other me2 product or service, very unlikely, unless it has a treasure trove of data.